Technical office
Our technical department of engineers from various disciplines will offer assistance with any questions concerning PV-projects.
If you are planning to implement a PV project, we will support you in all aspects of conception, deliveries and customer service. We handle all technical and commercial aspects of the process.
Feasibility study of the installation or project
Advice on the system design
Advice on the selection of materials
Creation of technical documentation
Advice and support during installation
Commissioning of installations and systems
Management of administrative processes
Warranties and preventive maintenance
Online support
Inam offers broad consulting options
Please contact us so we can answer your questions and comments quickly and competently.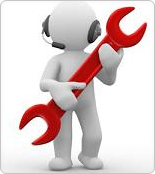 E-mail: dt@inamsl.com Phone:+34.937.323.595
Send us an email to the technical department, or alternatively use the online form by clicking the following link.
Click here to contact
What offers INAM?
PREVENTIVE MAINTENANCE
In systems of renewable energy each component of the system plays an important role. Each product performs a part of the process. If the component is not sized or dimensioned correctly, this affects the rest of the system with the result of restrictions on production, efficiency or lifetime. Often this situation can be controlled only through costly and time-consuming maintenance activities. Customer satisfaction becomes difficult here.
Our technical department will answer any questions about design, efficiency and feasibility of the installation. The result is an economical solution that meets the customer's expectations one hundred percent. We only need a few basic data from our professional customers, and our experienced and professional team will come back with concrete proposals and solutions.
ENGINEERING SERVICES
In general, for project implementation, the constitution of a planning document by a professional engineer is required to comply with statutory provisions. This work requires great experience, because the investment can reach considerable amounts of time and manpower. Experience in dealing with the public administration and management of all administrative questions is essential.
Ingenia Ambiental SL offers in advance the full range of technical and commercial consulting services, including the preparation of feasibility studies to ensure that our customers can quickly evaluate all options and risks of the project. After acceptance of the the complete technical department of Inam will assist you in handling all administrative matters (permits, plans, documentation and construction management). We take care of the installation company, responsible for installation and commissioning of the complete renewable energy plant.
AFTER SALES SERVICE
The technical service is one of the principal activities of Inam. It is an important differentiator in comparaison with our competitors. This department therefore one of the most important assets in our company, offering high-value services to a constantly growing and increasingly demanding customer circle all over Europe.
Therefore, in material contracts of major projects in Spain the commissioning of the plant is free part of the assignment with our customers. Beside of a presence service (traveling) a remote option (analysis of monitoring data) is offered. A professional work provides the best performance of the system throughout its lifetime leading to an optimized financial yield of the investment.
Beside of commissioning additional services are important, such as handling of product and service warranties and programmed travel activities (preventive maintenance). Modern monitoring helps, but will never substitute personal communication.