New series of FLX investors Danfoss
Installers who have worked with the FLX are very satisfied with this second generation inverter.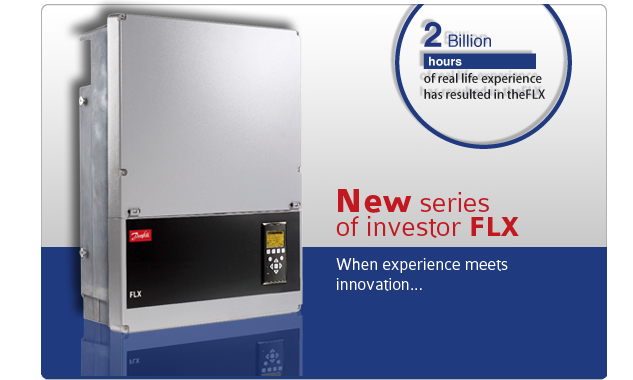 FLX Inverter Series When experience meets innovation

Danfoss launches a new series of three-phase transformerless inverters of 6-17 kW. The FLX is the result of the accumulated knowledge of Danfoss' considerable experience in the solar industry. It is the answer to hassle free installation, high yields and easy commissioning and use. It is naturally designed for reliability. Danfoss is the first inverter manufacturer to launch a 2nd generation three phase string inverter. It is your guarantee that the 2 billion hours of real life experience Danfoss has, is combined with the latest thinking and technology to bring you a flexible and robust inverter.

The FLX series gives you hassle-free installation and superb yield. This true 2nd generation multiple MPP inverter combines innovative and functional features with the best in tried-and-tested technology. The result is unparalleled flexibility in PV layout designs, high yield and ease of use.
Easy installation
Developed together with installers the simplified installation concept and the innovative front cover ensure good ergonomics and provide full access while ensuring protection. At 39 kg the FLX has a superior power to weight ratio and is easy to lift and install.


High Yield
The FLX is designed for maximizing yield. The inverter has an efficiency of 98% and precise and fast MPP tracking of 99.9%. Endless layout possibilities are possible due to the impressively wide MPP voltage range (250-800 V). Under complex conditions 3 independent MPP trackers allow the inverter to harvest all the energy of the PV modules. Yield increasing features have been built in, ensuring high performance for any size of installation; small residential or large MW plant..


Easy commissioning and use
Get full control, monitoring and adjustment possibilities with the integrated webserver and make commissioning an easy task by replicating settings across the entire inverter network.

The next generation

Protected to perform the new FLX inverter series is a showcase of order and structure. Long-life potted dissipation coils ensures no insulation failures and protection from ambient conditions. Coated PCBs gives extra reliability. The die cast aluminium heat sink provides an IP65 seal while the innovative air-flow gives improved cooling resulting in longer life.