Yingli second best acording to TÜV Rheinland
Modules from Yingli Green Energy to reach second best position in the energy-production testing by TÜV Rheinland.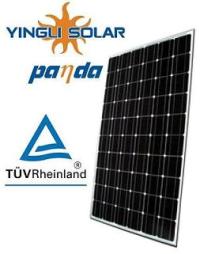 Yingli Green Energy Holding Company Limited (NYSE: YGE) announced that the Company's multicrystalline PV module has excelled in the "2010 Energy Yield Test" by TUV Rheinland, ranking the second best amongst thirteen PV modules from eleven participating PV manufacturers from Europe, North America and Asia. Lasting from May 1, 2010 to April 30, 2011, the year-long test measured actual energy yield of PV modules manufactured by all participants under real solar conditions as contrast to sunlight simulators.
By calculating the average energy yield of all PV modules, Yingli Green Energy's multicrystalline PV module generated an energy yield of 1.4% higher than the average level, which is 3.1% higher than the bottom performer, and merely 0.3% less than the top performer. To put this into context, for a 90 kWp commercial project built in Germany, Yingli Green Energy's multicrystalline PV modules would generate approximately 3,000 kWh more electricity per year than modules of the bottom performer. "High-precision test equipment for continuous maximum-power-point tracking and additional I-V-curve measurement was set up at our test site in Cologne.
For the period of one year, the energy outputs of thirteen different PV modules from eleven participating companies were measured. The data was then normalized to 1 Wp of the TUV Rheinland measured STC power and compared with one another," said Mr. Christian Bauerdick, project manager of the "2010 Energy Yield Test" at TUV Rheinland. "The results can give an idea about the performance under real conditions for moderate climates like in Düsseldorf, Germany."
Read original