Danfoss Solar Inverters Launches TLX 6 kW
Danfoss Solar Inverters announced the new TLX 6 kW photovoltaic inverter which was made available January 2, 2012.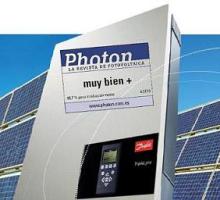 The six-kilowatt inverter, designed for residential use, enables customers to take greater advantage of the favourable trends in utilising a portion of the energy produced by a residential set up. "With the introduction of a 6 kW inverter we are providing a powerful new alternative to the residential customer all in a single inverter," said Allan Pilgaard-Jensen, Marketing Director at Danfoss Solar Inverters. The TLX 6 kW introduces powerful inverter solutions for home energy production, increasing benefits for residential consumers.  
Bigger savings opportunities 
Residential roofing angles, chimneys and variable shading can potentially affect energy production and overall system performance. The TLX 6 kW makes it possible to maximise energy production even with shading or climate challenges.  
One inverter saves space, time and money 
Only one inverter is required for an entire residential PV set up, greatly reducing the amount of space needed for installation. One inverter also reduces the amount of cabling required, while cutting the installation time to about fifteen minutes. Additionally, the possibility of a complex array of wiring throughout the home is eliminated.  
No additional equipment reduces start up costs 
The TLX 6 kW Pro features integrated web server communication, eliminating the need to purchase external datalogger equipment. This feature makes obtaining and evaluating vital system information easy and accessible from any web browser.
Read article