Inam's new corporate image
Inam has redesigned its corporate image in order to enhance its brand value and strengthen its positioning, through the commitment and innovation given to both customers and suppliers.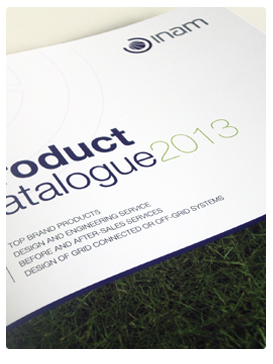 Inam evolves on a daily basis and proof of this is in our new look and the product line- up that represents our brand. Innovation, quality of service and commitment is the philosophy of our team and by nurturing this we guarantee our success. We are entering into new markets and together with new brands we provide new services for our customers.
Inam expands its team to cover all of the European Union, thus establishing its value as an international distributor of photovoltaic products. The Netherlands, Austria, Switzerland, Belgium have been added to the other European Union countries in which Inam already has a commercial presence.
In order to provide an even better service to its customers, Inam has incorporated new products into its catalogue, thus expanding its existing range of market leading brands and providing solutions for the needs of different markets. Kostal, Enphase and Tigo are now included in the catalogue of products, while reinforcing the links with existing brands such as Yingli, Rec, Bosch, Danfoss and Fronius.
With reference to the new image, the new logo represents an evolution from the previous one, a more modern and innovative way forward, a direct change from the past through the evolution of the company, the team, values and goals.
"The new logo was inspired by the previous one. With this redesign we wanted to keep the essence and origins of the company, from when it was not yet known in the market but was born out of hope, perseverance and entrepreneurial spirit. To these initial values typical of the history of the company, we wanted to add a mixture of vision, modernization, technology and progress. The new logo responds much better to the reality and future of the Inam project."
Said Roger Fernandez, MCEO and Department Manager of the company.
The new corporate image was fully implemented during the month of February in all lines of the business and communication mediums.