REC Modules are top performers PHOTON
Photon Laboratory announced that REC modules ranked first in the 2011 module field performance test.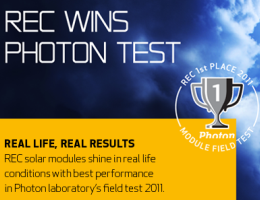 REC solar modules ranked first in the year long comparative study conducted by Photon Laboratory in 2011 which measures energy yield. On average, REC modules have generated more electricity than 45 other module brands, producing 6 percent more energy. REC multicrystaline modules outperformed 45 different types of modules, including thin film and monocrystaline products. "This award confirms that REC leads the industry in delivering quality, high-performing modules and demonstrates our commitment to quality and efficiency.
This is great news for REC and for our partners and customers", said Luc Graré, Senior Vice President, Sales and Marketing, Cells and Modules, REC. The Photon Field Performance Test measures how many kilowatt hours of electricity a module generates throughout one year in real life conditions. Two modules from each supplier are being tested at the laboratory location in Germany. The results published in the industry magazine Photon Profi state that the highest performance ratio of 90.8 percent and also the highest yield of 1150.4 kWh/kW were measured for the REC module.
The Photon Test is currently the most recognized field performance test, comparing international solar module brands over several years, during different seasons and in different light conditions. Using scientific methodology, the test helps consumers select the best module supplier based on product performance in the field. These results show the excellent bankability of REC modules, as their additional output allows consumers to have a faster return on their investment. Over the last 24 months, REC modules have maintained a leading position in the Photon Test, ranking second overall in 2010. As the world's most integrated solar company, REC delivers high performing products by controlling the complete solar value chain with production from silicon to cells, wafers and modules to systems development.
Read original