Distribution
Inam is a distributor of leading brands. We guarantee best availability of all products at attractive prices.
The technical and commercial experience of our staff provides a fast and competent service concerning quotations, deliveries and after-sales.
Product for photovoltaic solar energy
Request for catalog and price list

The REC Peak Energy Module delivers more power per square meter due to several design improvements. The former model of the Peak Energy series is Photon field-test winner.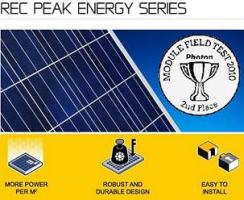 Introduction of three bus bars and improved contact between the cell and metal fingers, improves the electrical flow. The modules are easy to install with made-to-fit cables and multiple grounding points that reduce the ground wire needed in installation. Easy to lift and handle, the modules have a robust and durable design, supporting a large mechanical load.
Committed to sustainability, REC modules have an industry leading energy payback time of one year. This is a result of innovations such as the new fluidized bed reactor (FBR) silicon production process which uses 80 to 90 percent less energy than traditional methods. REC modules are also certified to benefit from the 10 percent premium available as part of an Italian photovoltaic incentive scheme for solar systems containing European components. Headquartered in Sandvika, Norway, our production facilities include the silicon materials plants in Moses Lake, Washington and Butte, Montana in the USA. The wafer production sites are located in Glomfjord and Herøya, in Norway and Tuas, Singapore.
Web REC