Distribution
Inam is a distributor of leading brands. We guarantee best availability of all products at attractive prices.
The technical and commercial experience of our staff provides a fast and competent service concerning quotations, deliveries and after-sales.
Product for photovoltaic solar energy
Request for catalog and price list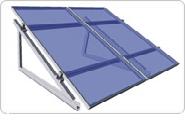 Design of mounting structures
Inam develops, designs and distributes its own mounting system for photovoltaic plants.We have a wide range of components and solutions that allow the installation on almost all roof types and materials materials. Simply tell us the specification of your roof, and we will provide you with a customized, professional and mature solution, including complete layouts.