Distribution
Inam is a distributor of leading brands. We guarantee best availability of all products at attractive prices.
The technical and commercial experience of our staff provides a fast and competent service concerning quotations, deliveries and after-sales.
Product for photovoltaic solar energy
Request for catalog and price list

Fronius manufactures sophisticated inverters for photovoltaic systems. The broad product range allows the customization of each plant type.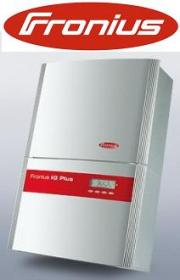 Grid-connected inverters
Solar energy is converted into electricity and fed into the public grid. Efficient, reliable, high power inverters form the heart of any PV system. In the development of PV inverters, Fronius has thought out new technologies, searched for innovative solutions, and has found completely new answers. The result: Highly functional mains-connected inverters, which interact optimally with all solar modules.
Product range:
Fronius IG Plus
Reliable and multifunctionally applicable allround-inverter. Maximum earnings due to a new concept. In any weather. The generation of Fronius IG Plus inverters is an enhancement to a successful concept. For maximum earnings, security, versatility and the highest reliability. The products are available in power classes from 2.6 to 12 kW and numerous advantages provide consistently high earnings.
Fronius IG TL
The first transformerless PV inverters with standard system monitoring for maximum earnings security. Power range: 3-5 kWn.
The consistent expansion of a successful family: The Fronius IG TL incorporates all the advantages of a transformerless inverter concept with the high innovation and quality demands of Fronius. Perfect for system sizes ranging from single-family homes up to agricultural or commercial operations. Unique in its class is the standard system monitoring which makes it the most future-proof transformerless inverter providing maximum earnings security.
Fronius IG Central Inverters
Your own solar power station. PV central inverters with a nominal AC output of 24 kW and above.
The Fronius IG central inverters are suitable for pv systems starting with an AC output power of 24 kW and work with a completely new system configuration. There is not only one power stack converting the electricity but also 9, 12 to 15 printed circuit boards that share the work, depending on the output class.
The reason for this is that it is well-known that the energy yield increases in part-load areas if smaller power stacks are operated at higher capacity. Therefore, every Fronius IG central inverter works with several smaller power stacks that switch on or off completely automatically depending on irradiance so that they can always deliver maximum power.
Fronius CL
PV Central inverter with Fronius MIX™ concept. A modular system brings maximum yield.
The Fronius CL (power range: 36-60 kW) combines high-yield power electronics with the unique, modular system design of up to 15 identical power modules in the MIX™ concept. Maximum yield and the highest stability are the advantages of this sophisticated system. This makes the Fronius CL the optimal central inverter for PV systems of up to several hundred kilowatts. Other pluses include the exact MPP tracking of the module manager, the automatic transformer switching function and much more. This makes the Fronius CL an upscale multi-purpose device that guarantees continual high performance.
Accessories
Accessories and components for PV systems with Fronius inverters. The following options are available:
Fronius String Control 100/12
Professional string monitoring of up to 12 module strings with a total current of 100 A per box.
DC-Junction Box Fronius IG 15/20/30
String combiner box for a maximum of 4 solar module strings.
50 Hz Isolation Transformer
50 Hz isolation transformer for Fronius CL 36.0 / 48.0 / 60.0
Fronius Update Package
Easy update of Fronius inverters' firmware
Extended Warranties
Extended Warranties for Fronius inverters: 10, 15 or 20 years.
Web FRONIUS