Distribution
Inam is a distributor of leading brands. We guarantee best availability of all products at attractive prices.
The technical and commercial experience of our staff provides a fast and competent service concerning quotations, deliveries and after-sales.
Product for photovoltaic solar energy
Request for catalog and price list

Danfoss Solar manufactures a wide range of photovoltaic inverters, which is divided into the product lines of DLX and TLX.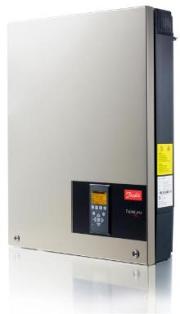 Residential projects
For residential PV installations use the single phase DLX inverter, which is highly flexible and robust. Alternatively use the TLX Pro inverter, incorporating all the newest advances in inverter technology.
The inverters are reliable and tough, incorporating yield improving features such as sturdy ride through, to avoid unintended grid disconnection, and optimised, individual MPP tracking on each PV input.
The DLX inverter range:
- Available in 2.0, 2.9, 3.8 and 4.6 kW
- 97.3% Maximum efficiency
- Transformerbased
- Single phase
- Robust design with IP65
- Convection cooled for consistent performance
- Suitable for all kinds of PV Modules
- Multiples language options
- Low noise allow indoor locations
- Full built-in monitoring, no extra PC software is required
- Master inverter funcionality
Commercial projects
In PV installations for commercial installations the three phase, 98% TLX Standard or Pro inverter with integrated webserver and three individual inputs makes installation and use easy, plug and play Use the UniLynx inverter to add additional design flexibility, making it possible to realise just about every system layout imaginable.
TLX inverter range:
- 6, 8, 10, 12,5 and 15 kW
- Tranformerless
- 98% efficiency
- 1000V
- Three phase
- Integrated Web server
- Master inverter functionality
- 16 countries and 8 languages in one inverter
- Individual MPP tracking on each PV input
- Individual and parallel configuration
- Ethernet and RS485 communication
- Integrated DC-switch
Large Scale Solutions
Large PV power plants benefit from using the three phase, 1000V TLX Pro inverter with master functionality, reducing installation efforts significantly.
CLX monitoring and grid management. Easy to install, real time monitoring featuring ConnectSmartTM
- The CLX range: CLX Home and CLX Standard.
- The CLX GM range: CLX GM, CLX Home GM and CLX Standard GM.
- The CLX GM range is fully compliant with grid requirements.
A CLX monitoring solution allows you to keep track of your PV systems 24/7. You can access production data anywhere, anytime via the Danfoss SolarApp on your mobile device, or via the CLX Portal.
ConnectSmart™ technology makes installation genuinely plug and play, avoiding additional IT configuration.
The CLX GM product range is fully compliant to the grid requirements for remote control of active and reactive power.
Real time monitoring: Permanent monitoring is essential to avoid unnecessary performance loss or system downtime. A CLX monitoring solution delivers data access, logging and messaging via a dedicated CLX Portal plus live-data on a mobile app. A CLX solution also provides long-term storage of production data and access to several plants simultaneously.
Simple – hassle free installation: When we say plug and play, we mean it. Installing a CLX monitoring unit takes just two steps. You just connect it to your router and to the inverter network. Thanks to patented technology behind ConnectSmart™, there is no additional onsite IT configuration involved.
Web DANFOSS