Distribution
Inam is a distributor of leading brands. We guarantee best availability of all products at attractive prices.
The technical and commercial experience of our staff provides a fast and competent service concerning quotations, deliveries and after-sales.
Product for photovoltaic solar energy
Request for catalog and price list

Mounting systems for PV-systems
Inam distributes mounting systems for your photovoltaik plant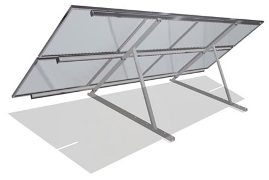 INAM commercializes and distributes its own product line of mounting structures for photovoltaic plants. We have all types of solutions for most typologies of roofs used today.
Inam
collaborates with CDEI-UPC (Center for Industrial Equipment Design) of the Polytechnic University of Catalonia in the design and development of our own mounting systems. Within this collaborative framework, has developed specific resistance calculation to guarantee the reliability of all designs.
Inam ensures that its mounting systems meet the
European standard EN
by static calculations. These are performed as indicated in the specific European legislation of the structural euro codes based on the actions of wind and snow on the photovoltaic moun¬ting system. We meet the needs of installers, engineers and distributors with our fixing systems, being the base for our development and production:
Flexible application
Our mounting system for pitched roofs allows setting photovoltaic modules with or without framework in old and new roofs construction, regardless of their configuration.
Fast assembly
Thanks to the high degree of preassembly and technology "click", the assembly time of our structures is minimized. In addition, detailed assembly instructions allow easy installation.
High compatibility with photovoltaic modules
The fact of having middle and end clamps adjustable at different heights allows compatible mounting to all framed modules under measures between 28-52 mm.
Excellent adaptability
The specific design of the anchoring elements of the module to the aluminium profiles system allow it to be adapted to most of framed modules used in the market.
Maximum safety
The innovative matrix structure with frame and ballast allows for maximum aerodynamic stability and ensures compliance to the actions of wind and snow load established by the European standard on Structural Euro codes.
Long lifetime
Thanks to the high quality of aluminium and stainless steel used, the system is completely resistant to external environmental conditions as to the possibility of corrosion, ensuring complete recycling of the materials used.
PITCHED ROOF
Pitched roof structure for PV modules with or without frame
FLAT ROOF
Fixed structure for flat roofs PV modules with or without frame
LIGHT COVERS InamLight
For flat structures that do not allow perforation in order to anchor installation
Data Sheet